Black Friday Sales Hits Record, Retail traffic and Foot-falls up.
on
November 27th, 2011
at
6:35 am
Preliminary reports for Black Friday indicate that retailers may have seen their strongest sales ever during the all-important kick-off to the holiday shopping season.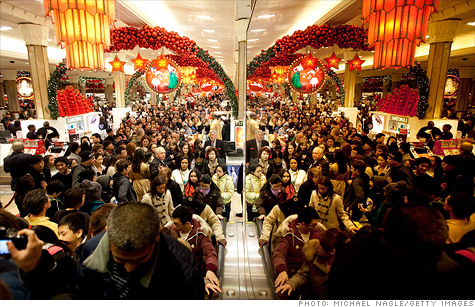 Retail sales on Black Friday climbed 6.6% this year to an estimated $11.4 billion, according to ShopperTrak, which tracks foot traffic at malls and stores. Last year, sales climbed just 0.3% to $10.7 billion, which was a record one-day sales amount at the time, according to the company.
"This is the largest year-over-year gain in ShopperTrak's National Retail Sales Estimate for Black Friday since the 8.3 percent increase we saw between 2007 and 2006," said ShopperTrak founder Bill Martin. "Still, it's just one day. It remains to be seen whether consumers will sustain this behavior through the holiday shopping season."
However, sales have been strong throughout the entire month of November with retailers rolling out holiday deals earlier than ever. In the two weeks leading up to the week of Black Friday, retail sales were up 3.6% and 3.8%, respectively, ShopperTrak reported.
"Retailers continue to stretch out Black Friday weekend by enticing shoppers with doorbuster deals weeks in advance," said Martin.
Online sales have also proven to be strong, with many big-box retailers and department stores offering deals online earlier this year.
Online sales were up 39.3% on Thanksgiving Day and 24.3% on Black Friday compared to the same days last year, according to IBM's (IBM,Fortune 500) Coremetrics, which tracks real-time data from 500 retailers in the apparel, department store, health and beauty and home goods categories.
"This year marked Thanksgiving's emergence as the first big spending day of the 2011 holiday season with a record number of consumers shifting their focus from turkey to tablets and the search for the best deals," said John Squire, chief strategy officer at IBM's Smarter Commerce division.
Consumers also spent slightly more than they did last year, although they spent most of that money on themselves. According to NPD Group consumers spent about 3% more on purchases during Black Friday. However, about 44% were self purchases up from 33% last year, the research group said.
Retail traffic on Black Friday up 2%
Total US visits to the top 500 Retail websites increased 2% on Black Friday as compared to 2010 and received more than 173 million US visits. Traffic has increased each day leading up to the Thanksgiving holiday and the total visits dipped slightly (-1%) on Black Friday compared Thanksgiving Day 2011. Early Black Friday sales resulted in a shift of online traffic, which climbed prior to the Thanksgiving holiday, however, continued heavy promotional activity helped to drive significant online traffic on both Thanksgiving and Black Friday. While Black Friday has been the top day for online retail traffic over the past two years, warm weather and early store openings encouraged shoppers to go online sooner this season.

Among the categories driving the growth in traffic on Black Friday were Department Stores (e.g. Amazon and Wal-Mart) Apparel & Accessories, Appliances & Electronics (e.g. Best Buy) and Video & Games (e.g. Game Stop).

Below is a list of the top visited retail sites on Black Friday:

Many of the major retail websites experienced growth on Black Friday, including Amazon, Best Buy, JC Penney, Sears and Kohl's. Amazon.com was the most visited website on Black Friday for the 7th year in a row.